Renacimiento
Rebirth (Renacimiento) is an artwork by Séfora Camazano. It is an original Giglée Fine Art printing on a 100% cotton acid-free canvas with dimensions of 135 x 100 cm. Dating from the year 2022, it forms part of "Retratos Femeninos: Una Mirada al Pasado" collection.
The painting is a portrait of Walaa. She is seated on a dark brown sofa, and her captivating gaze is fixed directly on the viewer, drawing them into the scene. She wears a black and brown dress with short sleeves, which boasts a flattering V-neck that reveals a striped blouse underneath. With her right arm neatly folded and her left arm extending outward, her open hand gently rests on top of a vibrant array of colorful fabrics. The sofa itself is adorned with an eclectic mix of orange, blue, and white fabrics, creating a playful and inviting ambiance. The background is a skillfully blended mix of lime green and warm orange hues, adding depth and dimension to the overall composition. With this stunning combination of elements, the portrait captures the essence of both beauty and confidence, inviting the viewer to take a closer look.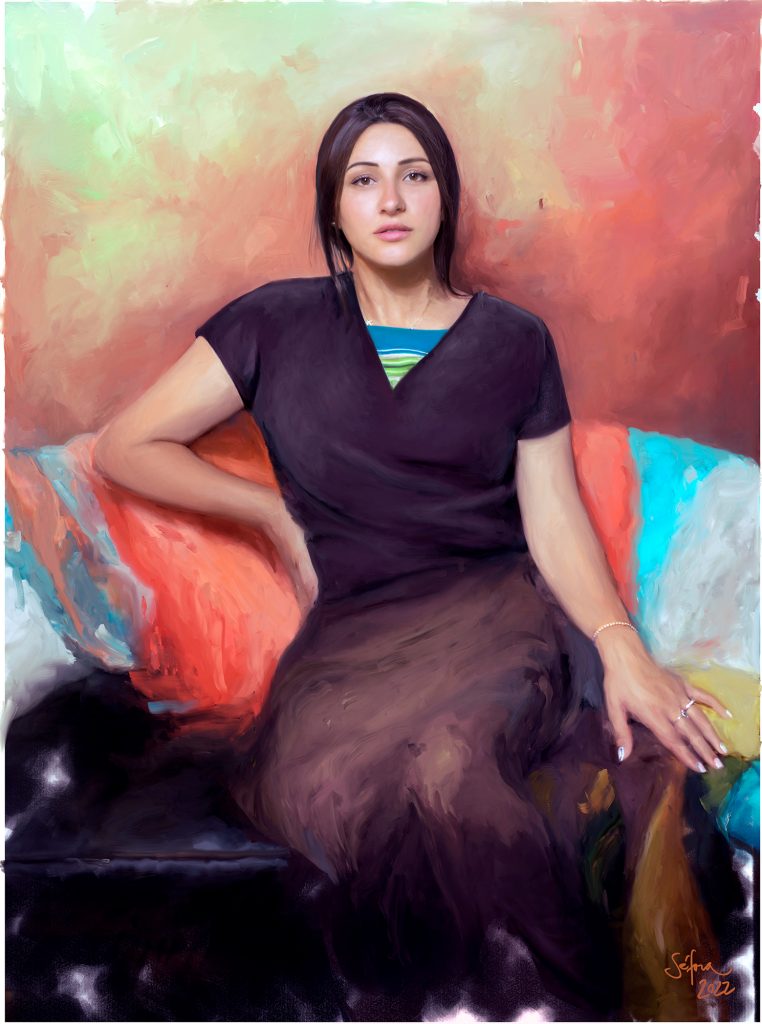 Walaa is an Arab-Israeli woman, that always yearned for a life of freedom and independence, where she could make her own decisions without anyone else dictating her choices. Unfortunately, her dreams were constantly shattered by her family's oppressive behavior. They forced her to marry an older man and subjected her to relentless violence on a daily basis. The situation became so unbearable that Walaa was eventually punished and confined for a prolonged period, prompting her to flee Israel and go into hiding.
"Rebirth" is the perfect word to describe Walaa's journey. With unwavering courage, she reclaimed her freedom and pursued a new life, one where she could be true to herself and chart her own path. Despite the hardships she faced, Walaa's determination and resilience shine through, inspiring others to pursue their own dreams of liberation and self-discovery.
The artwork production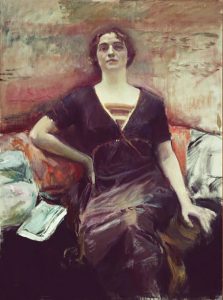 Rebirth was inspired on the artwork Portrait of Catalina Barcena (1919-1920), by Joaquín Sorolla.
---
RELATED PRODUCTS