Change
Change (Cambio) is an artwork by Séfora Camazano. It is an original Giclée Fine Art print on 100% cotton acid-free canvas with dimensions of 130 x 89 cm. Created in the year 2022, it is part of the "Female Portraits: Looking Back to the Past" collection.
The painting is a portrait of Chelo. She is depicted as a resting Odalisque, surrounded by carpets and silk fabrics. She is adorned with jewelry, including bracelets, and wears a gypsy headband in her hair. Her arms rest on a red silk cushion, and next to her body lie a tambourine, some roses, and a Spanish flamenco guitar.
Chelo, originally from a small village in Ribera, Valencia (Spain), endured years of psychological and physical abuse at the hands of her husband. Living in a tight-knit community where everyone knows each other made it difficult for her to speak out and report the abuse. Despite the challenges, she persevered through legal battles and was eventually able to rebuild her life. Her story serves as a powerful reminder of the courage it takes to break the cycle of abuse and the importance of having a support system to help survivors overcome their traumatic experiences.
"Change" encapsulates the profound desire for a new life that she held for both herself and her daughters. It symbolizes her unwavering determination to break free from the constraints of her past and embrace a brighter future filled with hope and promise.
The artwork production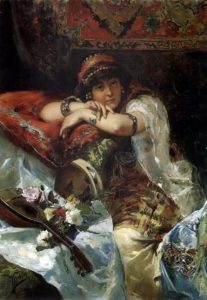 Change was inspired on the artwork La Odalisca (1884), by Joaquín Sorolla.
---
RELATED PRODUCTS