Soul
Soul (Alma) is an artwork by Séfora Camazano. It is an original Giglée Fine Art printing on a 100% cotton acid-free canvas with dimensions of 80 x 60 cm. Dating from the year 2022, it forms part of "Retratos Femeninos: Una Mirada al Pasado" collection.
The painting is a portrait of Fabiola Llorente-Sorolla, great grand-daughter of Joaquín Sorolla.
She is seated on a dark brown divan, with her gaze fixed directly at the viewer. She wears stylish horn-rimmed glasses, and her attire includes a chic black and brown dress with short sleeves and a flattering V-neck that exposes a striped blouse underneath. Her right arm is neatly folded, while her left arm extends outward, expertly holding a set of paint brushes. Adjacent to her, on the right-hand side, rests a wooden art palette, featuring a stunning array of rainbow-colored oil paints. The divan itself is covered with vibrant orange and blue fabrics, adding an extra pop of color to the scene. In the background, one can discern a mix of orange and lime yellow hues, skillfully blended together to create a captivating backdrop for this stunning portrait.
Fabiola is a resident of Madrid, where she has a studio and art academy. She had a relationship with a computer technician who repeatedly harassed and threatened her, to the point of hacking into her computer to control her. Despite her difficult experiences, Fabiola remains determined to follow her heart in all her endeavors.
"Alma" ("Soul" in English) which also happens to be the name of her art studio, reflects her unwavering commitment to pursuing her passions with authenticity and honesty.
The artwork production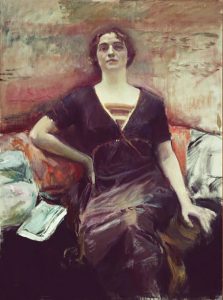 Soul was inspired on the artwork Portrait of Catalina Barcena (1919-1920), by Joaquín Sorolla.
---
RELATED PRODUCTS